If you're creating a new beauty brand (or building one that hasn't quite "made it" yet), this is for you.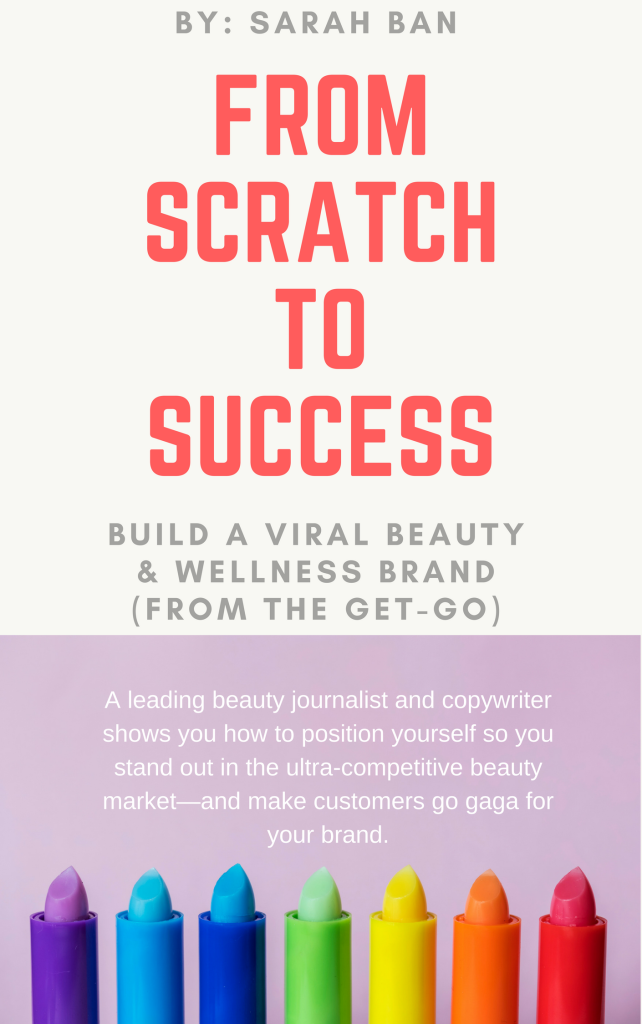 This intensive workbook details all the steps many beauty entrepreneurs rush through or skip — the steps necessary to prime yourself for maximum success. By diligently working through this book, you'll give yourself the best shot by unearthing your one-of-a-kind greatness and applying your unique offerings to your brand identity.

Click here to purchase for the special introductory price of $197. 

Does the thought of investing thousands of dollars for a copywriter make you hesitate — even a little?
If your answer is YES, I know why.
It's NOT because you can't afford it. (You're starting your own business — you can afford to hire creative professionals.)
Hiring a fancy professional copywriter is scary because somewhere in the back of your mind, you
know
your brand isn't ready to launch into success.
You're worried that you'll spend a good chunk of your savings and it will be a complete waste if your brand fails.
You think to yourself:
"I'm not a writer, but I can just do it myself… I know my brand the best, right?"
"Maybe I can find an 'affordable' copywriter instead and hope for the best."
(Think about it this way: if you were super-confident you'd succeed, you'd hire a professional copywriter in a heartbeat.)
Every year, dozens of beauty and health entrepreneurs come to me seeking my writing services.
When I'm approached, one of two things happen:
#1. I love what they're doing with their brand and I jump on board (because they're clearly prepared).
#2. I turn down the entrepreneur because they clearly haven't done the homework on branding to prime their brand for success.
Let's talk about #2.
Of all the new beauty brands I've consulted with, I've been able to predict with 99% accuracy which one stands a chance in the ultra-competitive beauty and health market.
This is why I've only worked with companies like Kopari Beauty (Google them, they're all over the place now!) when approached by a brand-new entrepreneur. When the founder of Briogeo first approached me, I knew with near certainty they'd succeed (they're now the fastest-growing hair brand at Sephora).
I can tell if someone has truly thought about their brand and where it will stand in the market and how they will tell their story to get customers excited.
But most entrepreneurs don't do this. Not nearly enough. And if they do, it's hasty.
It's not clear what makes their brand worth checking out.
They aren't offering anything different or better than their competitors.
They think saying "our products are more effective" or "our products are healthier" is enough. (It's not.)
Their design screams "Amateur!!!"
Their brand's essence does not match their brand personality at all.
Many people simply rush (or skip) the process of truly thinking through key foundational pieces because they'd rather quickly create product, slap on a label and call themselves a beauty entrepreneur.
(I totally understand this impatience, but this impatience costs you — BIG TIME.)
And even if entrepreneurs go through a branding process, it's too vague and not tailored at all to the beauty market.
I don't work with these entrepreneurs because I don't want to charge them when I know they don't stand a chance. I don't want to play a part in wasting their time or money.
Instead, I tell them to seriously work on their branding and come back when it's truly ready to succeed and go viral.
(Those who do so properly are 100% confident their brand will make a footprint and have absolutely no hesitation working with a copywriter to make their brand soar!)
So this leads to the question…
Want to be the next GlamGlow, Urban Decay or beautyblender?
Yes, I thought so!
Beauty entrepreneurs can ENVISION what they want their products to DO, how they want their products to LOOK and, of course, how life would be if their brand was wildly successful,
but oftentimes skip the most vital part of the process to ensure success: figuring out the part of their branding that will make them stand out in the beauty world

.

In this workbook, you will make sure your brand is ready to succeed by figuring out how to tailor your branding to this ultra-competitive industry.

Who will be teaching you?
Me! You'll be getting agency advice you can't afford with a beauty and health marketing expert. I've worked with both start-up entrepreneurs and global brands, such as Kevyn Aucoin Beauty, Cover FX, IMAGE Skincare, Dose of Colors, Dr. Pimple Popper, Conscious Coconut, Kopari Beauty, C.O. Bigelow, Seaweed Bath Co. and Odacité Luxury Skincare. (Note: all these brands? Succeeding!)
I'll also be referring you to other expert's sites, articles and resources — just like I would if we were on a one-on-one consultation. (Why waste time recreating the amazing resources already out there?)
Who's this intensive workbook for?
Beauty entrepreneurs, start-ups or small businesses ready to maximize their chances for success.
This workbook is perfect if you're an entrepreneur starting a brand-new beauty brand, whether your idea is still in conception, in the pre-product development phase or already launched — but still need help navigating the complex and competitive world of beauty.
(Pssst! I will be referring to beauty throughout, but this course works just as well for health and wellness brands.)
WHAT TO EXPECT  
*** IMPORTANT – PLEASE READ ***
This is the workbook to complete before you invest in professional copywriting, graphic design, web development or other expensive services from agencies.  This workbook does NOT cover visual branding. We talk about about looking at your brand from the inside out to determine its identity, which will guide all your content and copy.
Prior to approaching any of these professionals, YOU need to have a clear picture of what YOUR brand is so you can efficiently direct people on how to make your vision come to life — and then succeed and potentially become a household name.
This workbook is useful even if you've already filled out branding worksheets (including things like target audience, mission/vision and voice). Think of this course as me, looking through your branding docs, and honing in on what will make you succeed in the beauty market.
This is *not* an audio or video course. It's an intensive workbook. The workbook cuts through the noise and details only the most important elements you should carefully consider to create success for your brand.
This workbook gets to the point. No fluff, no fillers. I don't buy into the "longer the course, the better" idea. You're an entrepreneur and your time is valuable. Your time is money. I built this course so you can avoid being a full-time student. I built it so you can receive the most actionable tips (the ones I'd give my one-on-one clients) — then have the time to go actually take action and make magic happen.
There are some essential decisions you need to make before you even approach an agency. I get to the most important aspects of setting your beauty brand up for success. Think of this course as an in-depth consultation.
I'm not here to reinvent the wheel. I will direct you to various resources from other experts if they're already offering something I find useful to you, such as worksheets, etc.
This is not an overnight success pill. Your input, and many other factors, contribute to your output.
Lessons (all tailored to the beauty entrepreneur!)
1- Getting Started
Why you need to take a step back and think about your brand — even if nobody else seems to care about it.

What is a brand anyway?

Why should you take the time to figure out your brand identity?

Why should you build a focus group?
2- Your Brand's Mission and Vision + Brand Promise, Purpose and Values
How do you break down your brand's mission and vision?

What's the difference between your brand purpose, promise and values?

Why is it important to determine all these elements?

How do you incorporate these elements into your copy and content?
3- Brand Voice, Essence & Personality
What's the difference between your brand essence and personality?

Is your voice coming from the brand or the founder?

How do you determine your brand's unique voice?

How do you make your customers feel the way you want them to feel when they experience your brand?
4- Your Unique Value Proposition (The Thing That'll Make You Go Viral)
What exactly about your brand will make people pay attention?

How do you stack up against competitors (the ones who have more marketing dollars and followers)?

How do you stand out against competitors even though your offerings might be super similar?

What aspects of your product offerings should you highlight to intrigue customers?

What is the unique Positioning Statement you can splash all over your communications?
5- Your Superfan Avatar
Who is your biggest beauty superfan? Why does this matter?

What are your superfan's pain points, beliefs and attitudes?

What are your superfan's fears and what makes her resist buying?

What influences your superfan into buying products like yours?

What makes your superfan ultimately buy from you?

Is your superfan informed, afflicted or oblivious?
6- Resources
Your Beauty Team: Exclusive access to Sarah's private list of referrals to beauty graphic designers, PR professionals, web developers, digital marketers, etc.!
A list of additional reading about beauty branding, so you feel inspired, creative and motivated.
Are you ready? Take advantage TODAY and save by purchasing the book at a low introductory price!


 Get all the advice I personally give my clients for only $197.

BY PURCHASING THIS WORKBOOK YOU ARE AGREEING NOT TO DUPLICATE OR SHARE THIS CONTENT. DUE TO THE NATURE OF THE PRODUCT, ALL SALES ARE FINAL.