Sarah Ban & Co. delivers premium editorial services to top beauty, health, wellness brands, serving both start-ups and household name brands. Our comprehensive services range from branding and editorial calendar management to sourcing the industry's top freelance writers and producing original, research-driven content that incites behavioral change in customers. And yes, Sarah will write things for you herself!
Sarah lives, breathes and bleeds beauty, health and wellness! She's a bona-fide journalist and editor (not your run-of-the-mill writer), the real deal! Combine that with her mind-boggling organizational skills, sixth sense for trends and uncanny ability to breathe life into your brand's voice. Work with Sarah if you want excellent content and a brand personality that catches the eye of your most coveted customer or editors.

— Britney Munguia, COVER FX
A newswire industry veteran, Sarah is a digital journalist, director of copywriting & managing editor with extensive editorial experience in the beauty industry. She has reported for top national publications such as SELF, NYLON, ELLE, alive, and delicious living as well as high-trafficked digital publications such as The Kitchn, Organic Authority and EcoSalon.
Sarah's services and insights have been devoured by major beauty brands like Sephora best-sellers Charlotte Tilbury, Cover FX, Kevyn Aucoin, and Kopari Beauty; Instagram A-listers like LUSH Cosmetics, Dr. Pimple Popper and Dose of Colors; skincare innovators Beauty BioScience (GloPRO), Epionce Skincare, Image Skincare, and Sanitas Skincare; high-growth start-ups Vegamour and Four Sigmatic; K-beauty powerhouses Caolion and JJ Young and cult-classic darlings Odacité Skincare and C.O. Bigelow.
///
Click here to learn about my intensive workbook, "From Scratch to Success: Building a Viral Beauty Brand" and how it can help you become a household name!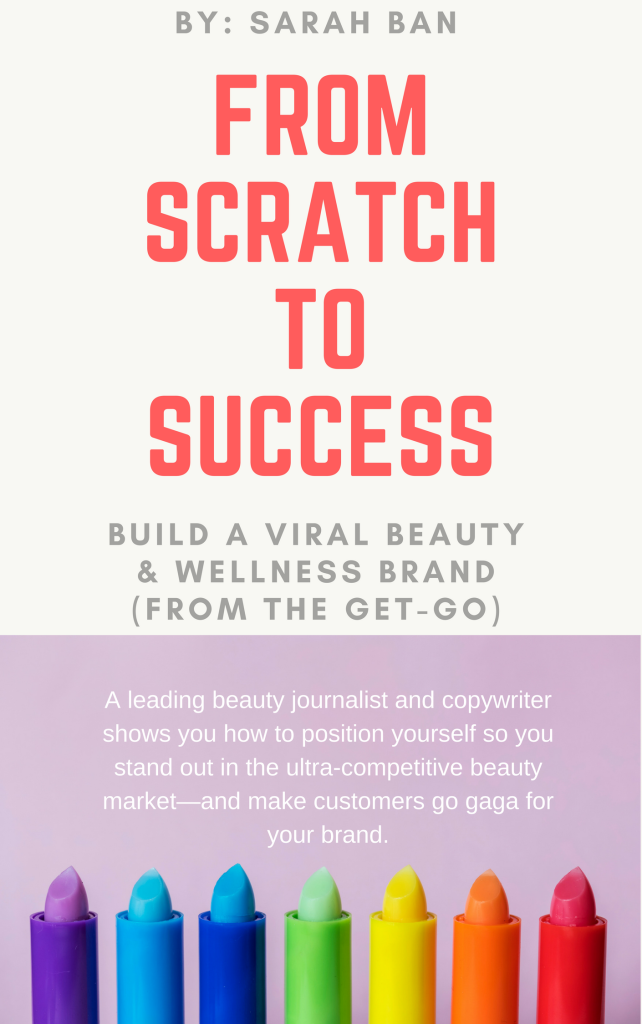 ///
A note from Sarah
Need editorial help? I can help in one of two ways:
1. I'm a digital journalist and editor who can research, report, interview, write and perform editorial roles for your publication.
I've been doing this since 2009.
2. I'm a marketing copywriter for mega-successful beauty and health brands (and startups too).
Are you a marketing manager/director or intrepid small business owner?
Do you know you're well poised for unbridled success in the beauty, health or wellness industry because you have something extraordinary to offer?
But as amazing as you are, you don't exactly know how to turn your content into customers. Your blog is neglected (and not making you any money), and deep inside you know there are future paying fans out there who you don't know you yet.
I focus on your highest-return activities for optimal profits and popularity.
We worked with Sarah during a critical growth and branding period for Circcell. We were all so grateful at how hands off we could be working with her. She always managed to come up with relevant, fresh topics and wrote wonderful pieces and she did this all with little direction from us. We were impressed at how quickly she learned about our brand, products, ingredients, etc. She truly became a Circcell expert overnight.

The response to her blog pieces has been tremendous and has resulted in increased newsletter sign ups and engagement. Everyone at Circcell highly recommends working with Sarah!

–Maya Crothers, Founder & CEO, Circcell Skincare
According to the latest market research from Lucintel, the global beauty care products industry is forecasted to reach around $265 billion by 2017. And according to Euromonitor International, health and wellness will grow to be trillion-dollar industry by 2017.
Your competition isn't going anywhere.
And your competition has bigger marketing budgets to implement gloss magazine-level editorial content featuring A-list influencers—plus advertising budgets to keep them at the top.
And in this crowded marketplace, you not only need to content that sets you apart, but you also need the content to contribute to your bottom line (profits + popularity).
Think about Maslow's Hierarchy of Needs this way: Your products fulfill an immediate need, like clearer skin, but words are what offer the emotional and mental bond you need to create loyalty and trust with your customers.
But are you still grappling with churning out fresh, standout content to drive customers to your brand? That's because you're probably lacking in at least one of the following:
you're unable to generate a windmill of fresh, inimitable content without running out of ideas
you're unsure how to ideate articles that will truly attract your readers since there is so much content out there already
you don't know how to promote your blog to gain more customers (NOBODY is reading or even seeing it)
you're spending your precious time (or hard-earned cash) to write content, but you have zero return on investment
you need to upgrade your writing from boring to anything but — STAT
you can't find a dedicated person to deliver expertly researched articles written with journalistic aplomb
you don't have time for content
So what do you need to get your (perma) place in the spotlight and make customers hoard your way?
Your Smart Solution
Work with a triple-whammy beauty + wellness expert who can
sell like a copywriter and report like a journalist
implement tech tips & tricks to grow your email subscribers at every chance you have
market your writing so people ASK you for your news and updates
get press to pay attention to you as an authority
organize your editorial calendar and ideas like a managing editor
tout your know-how of beauty + health + wellness
make you some money
Your solution may be an email away. I work with beauty, health & wellness brands that need help with writing, editing and showing off their authority by offering research-backed content and ultimately, a riveting brand that customers (and press) go back to again and again and again.
I show them how to ditch the tearfully boring blog posts, unnoticed e-newsletters and sad, drab websites and draw in fans through gravitational storytelling with my expert editorial direction and wordcrafting, while spewing actionable, results-making advice on web and in-person image. What's the point? To get your customers—and buying your stuff already—again and again. And also, to prepare you for becoming a beloved press darling for when you blow up.
One question marketers should ask before creating #content: Is my content different from my competition?" – Joe Pulizzi, Content Marketing Institute
Want to know what I do? See what services I offer.
Want to know who I am and who I've written for? Visit my bio.